New: Version 5 Just Released
Beautiful Astronomy Software For Anyone With An Interest In The Moon Or Planets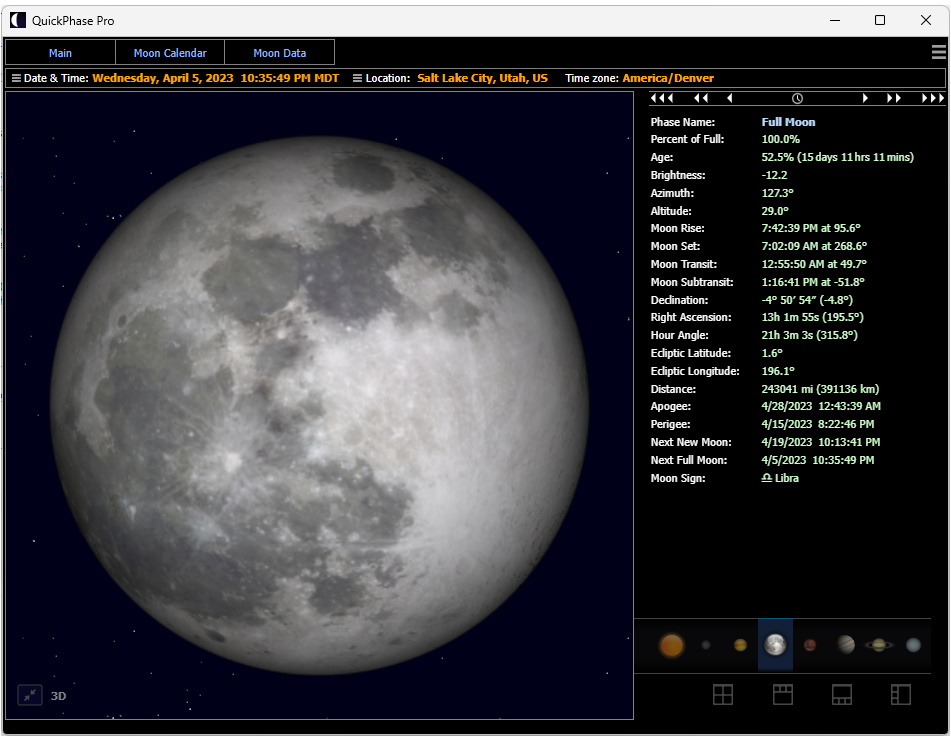 (View of the main screen with Moon as the target)
If you are interested in
predicting, researching or tracking the Moon, Sun or Planets of our solar system
for any reason... you'll love this software.It's the quick and easy way to explore not just the Moon's phases, position and monthly calendars, but also information about our Sun and planets. Simply choose
any location on earth
and select
any date
... for
thousands of years
into the past and future.
New For Version 5:
Along with many major infrastructure changes "under the hood", the program now shows data and imagery for planets, including Mercury, Venus, Mars, Jupiter, Saturn, Uranus and Neptune. You can view any of these celestial objects with a single click.This program has been in service for over
17 years
in various iterations. See why thousands of people from around the world have enjoyed this software since 2006.
Try QuickPhase Pro
Do you already own QuickPhase Pro (version 3 or 4) for Windows? Contact us for an upgrade discount. Also, please note this new version will not delete or overwrite your existing program, so you can try version 5 without any conflict.