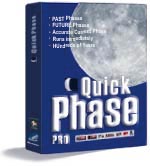 QuickPhase Pro FREE 15-Day Trial License Number


Simply enter your name and email address below and a temporary license number will be emailed to you that expires in 15 days. All features of the software will be fully enabled so you can fully evaluate the software.

Note: Your email address will be kept private and not shared with 3rd parties and will only be used for communication regarding QuickPhase Pro and your free trial.