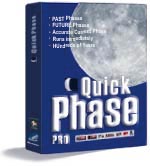 Risk-Free License Order Form
YES, I want to own a copy of QuickPhase Pro 4!
Please include the following with my purchase:
| | |
| --- | --- |
| | FREE BONUSES - Images of the Moon eBook, Wallpaper/background images for your computer (see details below) |
| | FREE upgrades to new versions in the 4.x series |
| | FREE Extended Download Service: re-download licensed software at any time |
| | FREE technical support: responsive tech help and answers to questions |
| | One-time purchase: not a subscription, no hidden fees |
| | Multiple Computer–Single User License allows installation on multiple computers you personally use (e.g., your household computer, your laptop, office, etc) |
Only

$29.95*

per license

* Do you own an earlier version? Contact us for upgrade discount
* Multiple license discount in shopping cart
With Your Order You Will Get These FREE Bonus Gifts
System Requirements: Images of the Moon eBook is only available for Windows computers. Wallpaper/background images can be viewed and used on any computer.
FREE BONUS GIFT: "Images of the Moon" e-Book - an $8.95 value

This ebook features over 30 striking moon images and animations -- the best you can find anywhere. It took me over 17 hours to find all these images and compile them together. I did all the work ... now you can simply open the ebook and enjoy the pictures. This is an exclusive gift -- the only way you can get this ebook is by ordering QuickPhase Pro.

The ebook contains stunningly beautiful images of lunar and solar eclipses, crater closeups, and moon phases from top astronomy photographers Fred Espenak, David Hawoth, and Forrest Egan. The eclipse images are almost unbelievable.

You can also view over a dozen of the highest quality, most popular and classic NASA moon-exploration photographs, hand-picked from among hundreds. Almost every image in the book also has an enlarged version so you can see great detail. Some (but not all) of the images can be printed freely for reports or whatever you desire.

System Requirements: Windows Only
FREE BONUS GIFT: Wallpaper/Background Images For Your Computer

The amazing image to the left is the moon (front) and the planet venus (back). It is not computer generated or an artists rendering. It is an actual photograph captured by the spacecraft Clementine in 1994. I've created a vertical and a horizontal version for you to choose from. You can also download images of ... a stunning eclipse ... a glorious scene of the Indian Ocean and sunlit clouds from space ... a breathtaking view of the eye of Hurricane Emily from space, complete with a large, rising half moon ... a panoramic view of Earth and black space with a small, lonely figure of an astronaut floating in the distance (he used a jet-propelled backpack to go far from the safety of his ship -- you've gotta see this one!) ... and more. The images are large (1024x768 or 1280x1024) so I can't show them directly, but take a look at some thumbnails:


You can get all these and more in beautiful detail, for free, after you place your order for QuickPhase Pro.

System Requirements: None (usable on any operating system)
100% Money-Back Guarantee
If you change your mind, no problem! Simply contact us anytime in the next 60 days (a full two months) and you will get a prompt, courteous full refund.